More than 1000 regulatory professionals have already registered for singlerulebook.com's first webinar on traceability to regulation
On Thursday 18th of June, regtech start up singlerulebook.com will host its first webinar. It will bring together senior experts from Standard Chartered Bank, Capco and MarketAxess to discuss data lineage in regulation. It looks like this will become one of the most popular industry events during this lockdown period: singlerulebook's Linkedin webinar page shows already more than 1000 webinar registrations.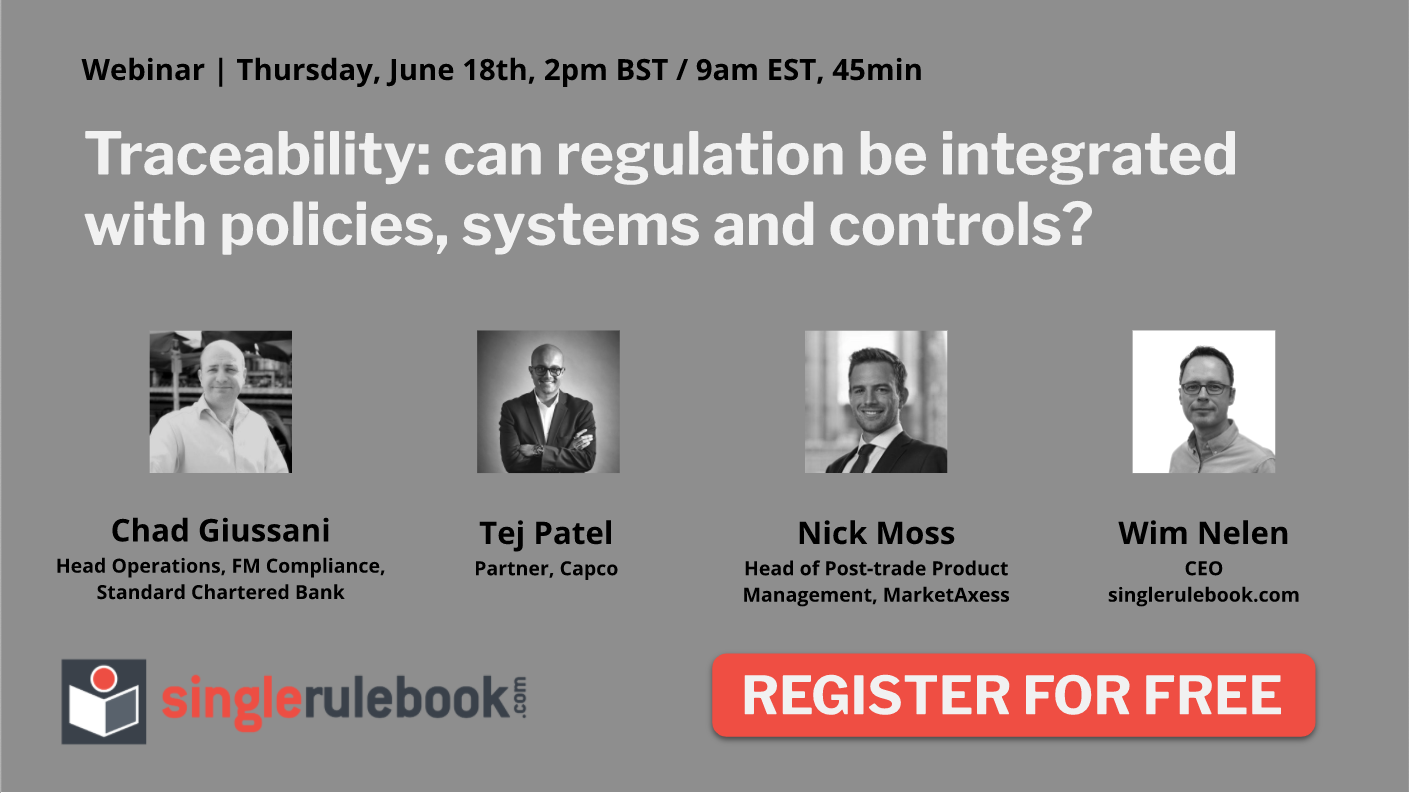 Traceability to the regulation has been seen as the holy grail in regulatory change management for years. It unlocks significant operational efficiencies and whilst reducing the risk of non-compliance. The consensus is that existing tooling tends to be ad hoc with substantial manual input. A number of firms are known to have spent significant sums on developing regulatory taxonomies and ontologies with limited effectiveness.
singlerulebook.com's CEO Wim Nelen explains how his start up has cracked this nut: "Our software bootstraps two-way links with regulation onto any existing process or system and visualises how all of these items link together. The starting point is much more practical and therefore highly effective. The result is instant efficiencies on an ongoing basis."
Mr. Nelen sees traceability as essential for the digital operating models that the industry is moving towards: "What we are doing is standardising, aggregating and enriching regulatory source inputs, in a way that allows for integration and further automation. The hooks into singlerulebook.com go into policy documents maintained by compliance staff but they also plug directly into the code base of risk engines, reporting software, client advisory software etc. As processes become more and more automated and nigh on every process in regulated firms somehow touches on regulation, it becomes essential to create bidirectional links with the regulation across systems."
singlerulebook.com started out as a Natural Language Processing driven regulatory knowledge platform, weaving evolving regulation and in-house and third party interpretations of regulation together into a visualised digital knowledge basis. At the start of this month, the firm officially launched its 'Integrate' release. 'Integrate' connects evolving regulation, regulatory knowledge and policies, systems and controls.
The registration page for singlerulebook.com's traceability webinar can be found here: https://zoom.us/webinar/81120704794.
(Please note that a previous version of this post included a link to the webinar that did not work. If you would like to register, make sure to use the above. Thanks!)
---
A PlanetCompliance Press Release – for more information and how to submit articles click here.
---