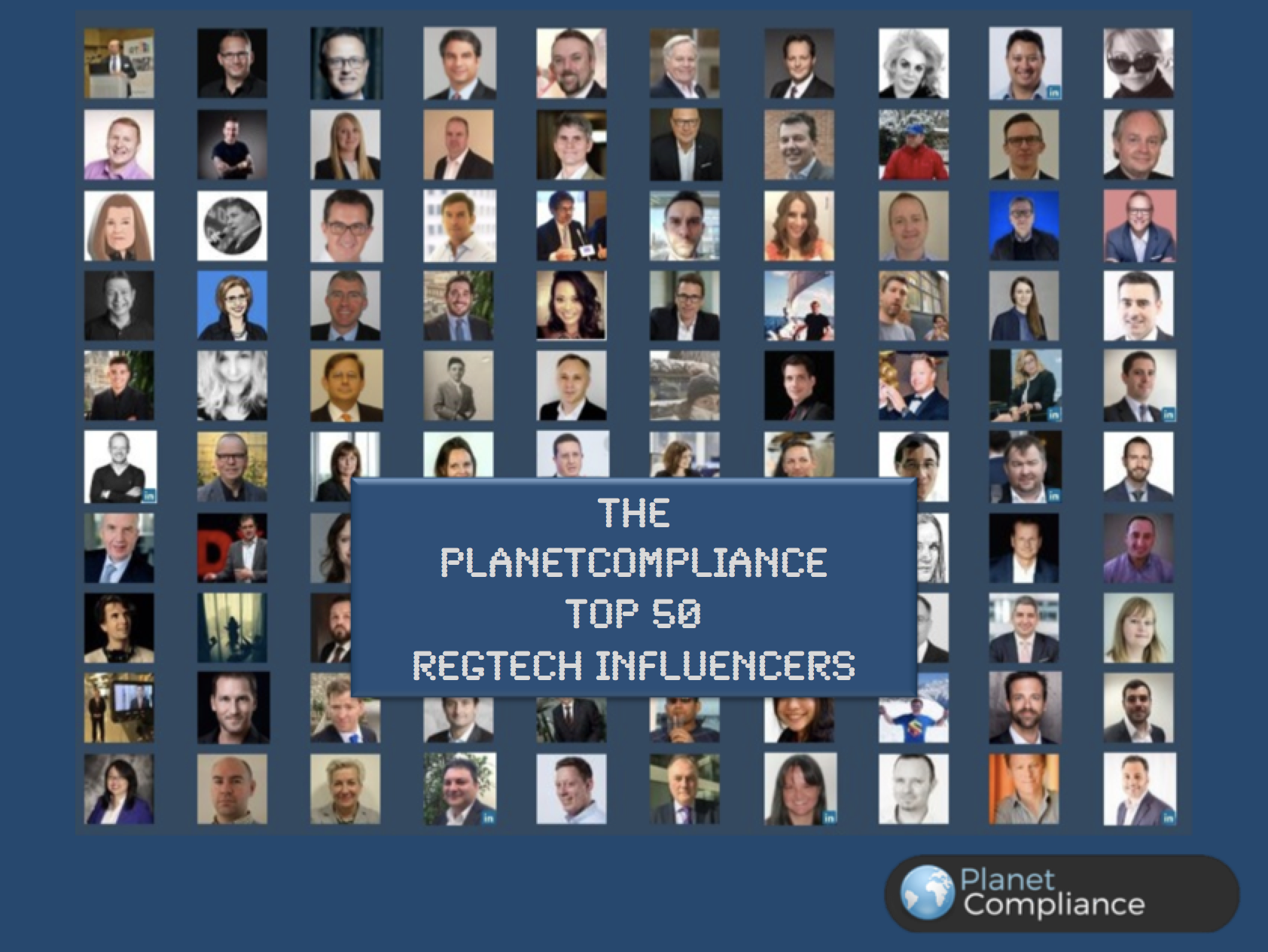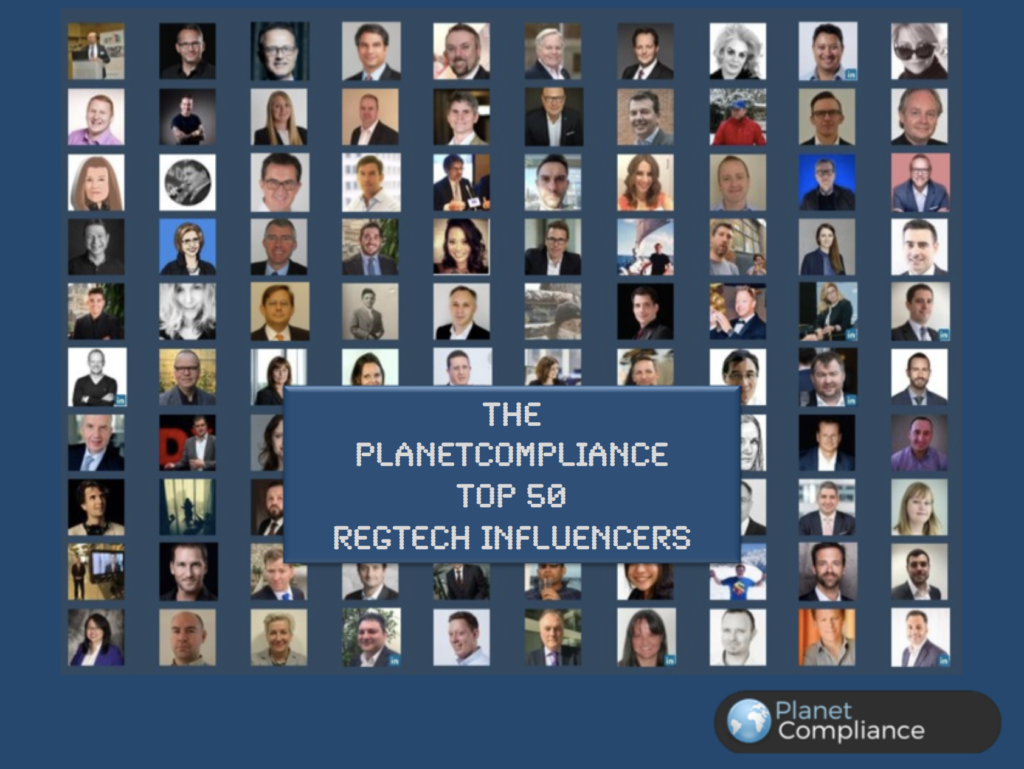 The RegTech industry is buzzing: innovation has transformed how we use regulatory technology to deal with ever-increasing requirements and obligations from financial regulations. Who are the people though that move the sector, are the most active on social media channels, blogs and industry events? You know we love lists at PlanetCompliance, so every week we update our list of people that as we find are the key influencers in the field and know what they are talking about when it comes to RegTech. Our scoring algorithm considers the activity across the web and social media channels based on an individual's Kred Influence and Outreach scores that combines data, for example, from across the web. The algorithm also considers other aspects like how often the individual is mentioned across the web and in the press. And, of course, there is a secret ingredient we've added.
As with all lists, it's not an exact science and we appreciate that you cannot easily measure influence, but we think the people on our list are the ones that contribute significantly to the conversation around RegTech and influence what people believe.
Naturally, some people may not agree with our selection and everyone might want to take it with a pinch of salt, but obviously we would love to hear from you if you consider yourself a RegTech influencer or know someone who should be part of this list. Simply click the 'join' button or drop us an email at info@planetcompliance.com . We will review all suggestions, but please understand that Planet Compliance reserves the right to accept or exclude people from the list as we see it fit.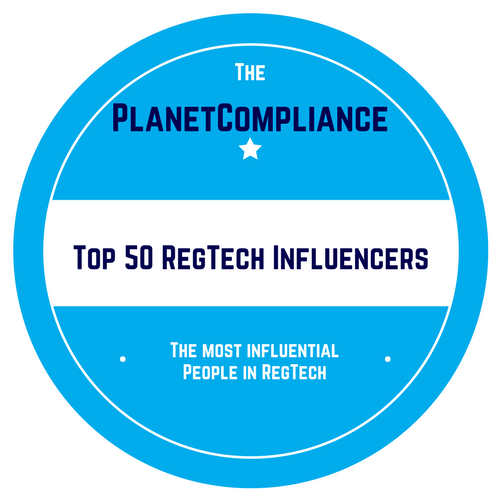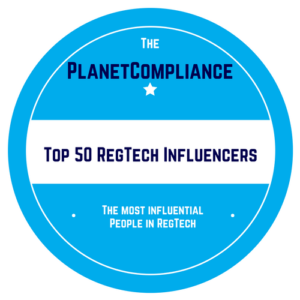 Are you listed?
Grab your badge!
Rank
Individual
Power Score

1.




(1)

Neira Jones
Advisor| Speaker| Payments| Innovation| Fintech| Regtech| Security | Cyber | I make it happen... http://neirajones.thinkific.com http://instagram.com/neiraj0nes linkedin.com/in/neirajones
85

2.




(21)

Lucy Heavens
Love all things #FinTech #RegTech #WealthTech #Geek Cofounder of @RegTech_Women, Women in FinTech Powerlist @10xBanking Chief #Marketing Officer Views all mine!
68

3.




(2)

Nafis Alam
#Fintech, #Banking, #AI & #Islamicfinance Research enthusiast, Prof. of #Finance,
68

4.




(4)

Conor C
#CAO #GM #CMO, #Risk #Cyber #CyberSecurity #RegTech #FinTech #GDPR #KYC #AML #Analytics #AI #Robotics #LGBT & #B2BMarketing . My views are my own!
66

5.




(6)

Damien De France 🌍 🕊️ De
Create value through #growth #CFO #finance #Fintech #SaaS #payment #banking #CLV #cashflow #funding #stocks @INSEAD @HECParis
62

6.




(3)

Marc R Gagné Mapp
Privacy Advocate, #CyberSecurity and Director @interfima, @PACC_CCAP @Magnifintech #Privacy #Fintech #BigData Telos Network #Adjudicator @irish_technews
62

7.




(7)

Theo
Founder @UnconventionVc |
61

8.




(11)

Koen Vanderhoydonk Vanderhoydonk
Connecting the dots between scaling B2B FinTechs, Banks and Regulators | FinTech & RegTech Influencer | Author | Public Speaker | Passionate Business Accelerator
61

9.




(8)

Steve Tunstall
Inzsure.com #Risk #Insurance #insurtech http://sg.linkedin.com/in/stevetunstall
61

10.




(9)

Stevewal63
Help #BeatPlasticPollution to protect all marine life in our rivers, seas and oceans.
61

11.




(13)

David Bundi
Head #RegTech @PwCLegal #Switzerland | Co-Head #Zurich Chapter@DSRPTNdisciples | #RegTechLeader | #Compliance Expert | #RegTechEnables | Views are my own.
60

12.




(10)

Efi Pylarinou
Fintech & Blockchain advisor Influencer www.efipylarinou.com
60

13.




(12)

Scott Zoldi
Driving #AI #EthicalAI #ResponsibleAI #ML #innovation as Chief #Analytics Officer at @FICO®. Author of 100+ patent applications: 65 granted, 45 pending
59

14.




(14)

Patrick Barnert
Tech Entrepreneur, Business Angel, Advisor & Board Member. Passionate about #Neurotech @IDUNTech @sonectme @Unic @amazeemetrics and others
59

15.




(15)

Colin Bristow
A keen sailor and #sailing coach. I work for #SAS with #Finance #Insurance #Business orgs to exploit #Analytics, #AI #ML #IoT #bigdata #tech
58

16.




(16)

Mark Gossington
Partner @KPMGAustralia | Financial Services Risk & Regulation expert | Business inclusion |
58

17.




(18)

Urs Bolt
Expert in WealthTech | RegTech | Blockchain
57

18=




(19)

Oscar Oscarjofre
Co-Founder, President/CEO @KoreConX All-in-one solution for companies #IRPrivate #shareholders #CapTable #securitytoken #koreprotocol #DigitalSecurities
57

18=




(19)

Ken O'Connor
Data Supply Chain Management, Data Governance, Data Value, Data Quality, ETL, Data Migration, Digitaltransformation, Fintech, Regtech, Nudge Innovation GDPR OCG
57

20.




(36)

Jo Ann Barefoot
CEO & Cofounder of @AIRinnovate. Building global #RegulationInnovation through #fintech & #regtech, w/ Barefoot Innovation podcast, keynotes, convenings, & more
57

21.




(23)

Antonio Selas
Lawyer (Partner) lecturer/speaker: #Blockchain #ICO #Crypto #FinTech #InsurTech #RegTech #Antitrust #Competition #IP #Patents #Payments #PSD2 #Trademarks
56

22.




(17)

Suriya Subramanian
Data driven Change consultant https://t.co/qdYSxrpfBK #datagovernance #bigdata #sftr #datascience #dataquality #IoT #gdpr #artificialintelligence #fintech
55

23.




(24)

Richard Maton
Co-creating and scaling digital transformation. Advising scaling businesses, venture builders and accelerators #AI #Fintech #RegTech
54

24.




(26)

Leda Glyptis
Recovering banker. NED. CCO @10xbanking. Geek, immigrant, optimist. #LedaWrites on Thursdays. This girl can & usually does.
54

25.




(27)

Michael W. Yuhn
CMO/Co-Founder @fundmeo HQ in #Tampa #FinTech #Influencer #Entrepreneurship #SmallBusiness #BusinessFunding #Snowboarding #MLS Enthusiast. #StBarths Pirate.
54

26.




(25)

Mathias Wegmueller
Now Director DEM @Dynatrace. Co-Founder @QumramAG. Passionate about #DigitalTransformation. Family & Sport always first, when not at work, Tweets are mine.
54

27.




(29)

Peter Collins
Vice President, Marketing @VoltairePower | IBM alum | Interests #RegTech #solarenergy #GRC #Fintech #Risk & #Compliance | Love books + film. All opinions my own
53

28.




(28)

Ghela Boskovich
Revelation can be more perilous than Revolution - Nabokov. Founder @FemTechGlobal & Chapter Lead/Head of Europe for @FDATAeurope @FDATAglobal
53

29.




(30)

Christopher Danvers
Product Development & Card Payment Strategy at Helix by Q2 (Banking as a Service).
53

30.




(31)

Nasir Zubairi
CEO @The_LHoFT. Was a Board Member @ SEB, Financial Services/Fintech/Blockchain Committee @ IMF & OECD. #Fintech #Blockchain #RegTech #AI #FinTech40
53

31.




(5)

Christophe Paillard
directeur #risques #conformité #banque, head of #risk & #compliance , ancien #AMF & ch.mission #ACPR, #innovation #rgpd #ethics #RegTech (compte perso)
53

32.




(33)

Anne Leslie
Cloud Risk & Controls Leader | IBM Cloud for Financial Services | Securing Cloud-enabled business transformation | Podcast Host | Public Speaker | Change-Maker
52

33.




(22)

David Doughty
Helping company directors & boards to be more effective. Chartered Director, Corporate Governance Expert FRSA #CorpGov #RegTech #FinTech #ESG #Sustainability
52

34.




(34)

Tony De Bree_NL
Digital Strategy & Change Consultant, Digital Nomad, Dragon, Startup Mentor & Author #ict #entrepreneurship #innovation #banking #finance #kyc #fintech #regtech
52

35.




(35)

Stefan Sulistyo
Co-Founder & Chief Customer Officer alyne.com
51

36.




(37)

H. J. Von Schönfeldt
Member of the board, Executive. Interested in: #fintech, #insuretech, #startups, #cloud, #bigdata, #digitizing #cloudcomputing https://t.co/lZ3UyzRbp5
51

37.




(38)

Nicola Cowburn
#WIF Power List 2016-2019, #FinTech #RegTech #WealthTech #RiskTech Champion #compliance #AI #RegChange
50

38.




(39)

Huy Nguyen Trieu
CEO of The Disruptive Group (@_T_D_G_). Co-founder CFTE (@CFTE_edu). Blog: Disruptive Finance. Ex MD Citi. Ex Tech CEO. Loves #Fintech and #DisruptiveFinance.
50

39.




(40)

Marcel Fröhlich
Director Services @eccenca. Conceptual engineering - Understanding & creating models of data & businesses. Here to learn from you about info dynamics. Mastodon.
50

40.




(41)

Andreas Iten
Co-Founder of F10 - where innovation meets industry. Head SIX FinTech Ventures. All views are mine #FinTech #InsurTech #RegTech #DeepTec #startups
50

41.




(42)

Manuel Reil
Co-Founder, CTO & Chief Bavarian Officer of @alyne
49

42.




(44)

Christian McMahon
Commercially Focused Multi-Sector CIO / CDIO | Transformation Leadership | Customer Centric | Board & Venture Advisor | Non-Exec Director
49

43.




(32)

Nirvana Farhadi
FS RegTech Influencer, Pioneer, NED Board Member, Thought Leader, Speaker, Authour. Thoughts & opinions are my own. RT does not = endorsement
48

44.




(43)

Henri Arslanian
FinTech, RegTech and Crypto Lead at PwC | Consultant, Speaker, Author & University Professor
48

45.




(45)

Peter Oakes
BOARD DIRECTOR | FORMER CENTRAL BANK DIRECTOR | CHIEF RISK / COMPLIANCE | FINTECH | REGTECH | PAYMENTS | EMONEY | THE FINTECH50 | LAW
47

46.




(46)

Lucy McNulty
City Editor @financialnews | State Street Institutional Press Awards: Regulation Journalist of the Year | Words previously in @thetimes @ST_business @WSJ
47

47.




(47)

Rebecca Edwards (Powell)
Director of Communications @Raidne and founder of wearetechpr #regtech #compliance #surveillance #marketmanipulation #marketabuse #financialservices #tech
47

48.




(48)

Lorraine Lyons
#Regtech | Business Development Executive | Financial Technology | All views are my own.
47

49.




(49)

Juan Llanos
@RipioApp CCO | #FinTech / #Crypto / #Compliance / #RegTech | Author of https://t.co/PDF0ntJ80r | 2013 #Bitcoin @TEDx Talk https://t.co/XIUHqDfQ7P
47

50.




(50)

Thomas Power
Independent Director @9Spokes @bicraorg @pennypower @savortex DM @WhatsApp +447875695012 Email thomas@bip100.club #Bitcoin Join #BIP100Club
46